BRINING CHICKEN: EVERYTHING YOU NEED TO KNOW!
By Katie Moseman
https://recipeforperfection.com/brining-chicken/
Instagram @recipeforperfection 
How to brine, how long to brine, how it works, and everything else you could possibly need to know about brining chicken.
BRINING CHICKEN: EVERYTHING YOU NEED TO KNOW!
If you thought brining was something to only whip out once a year, like for Thanksgiving, think again!  
Brining is an excellent technique for chicken, too. 
I use Fire & Flavor Chicken Brine all the time to get delicious chicken.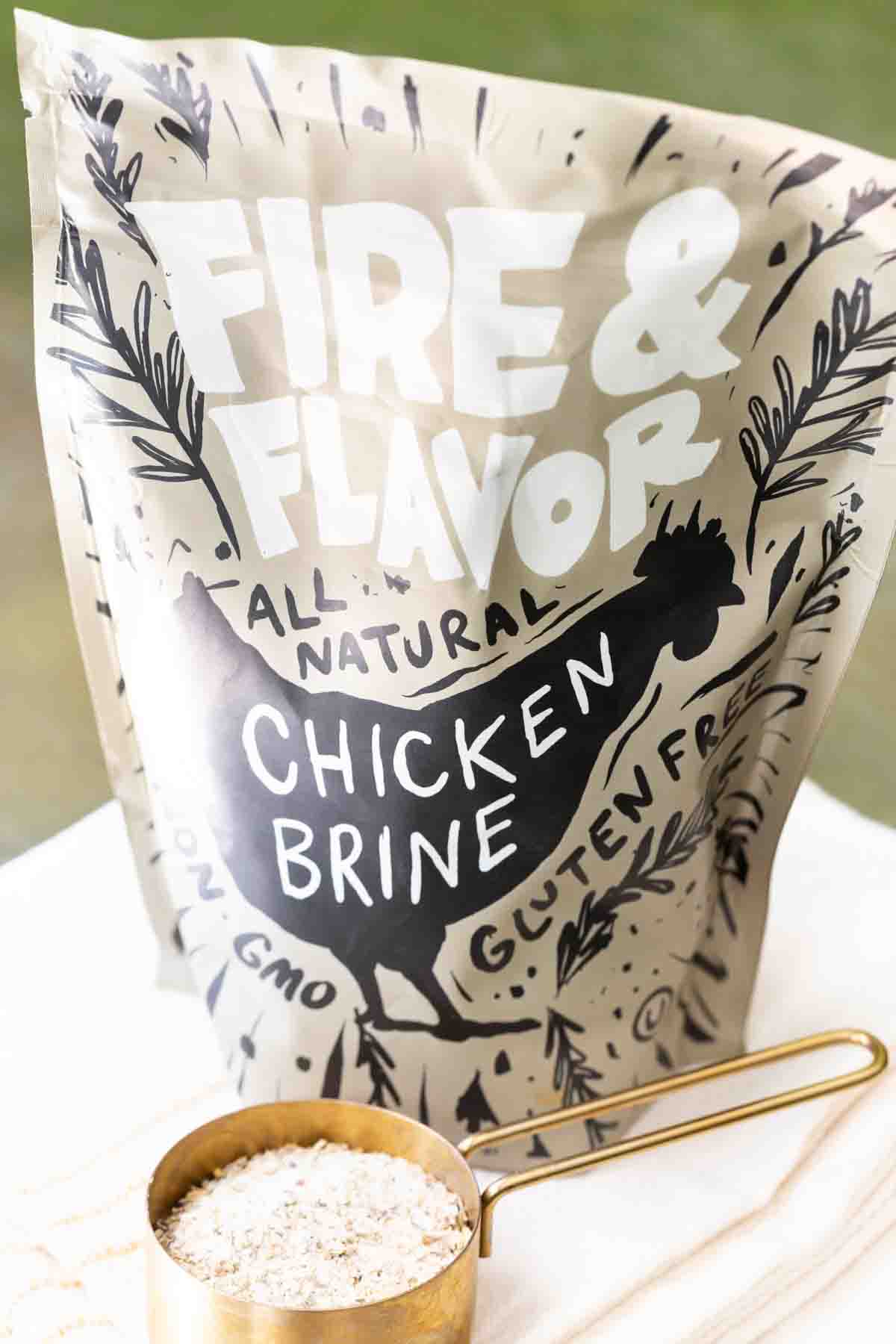 Let's take a look at why brining is such a great technique, and find out exactly how to brine your chicken.
WHAT'S A BRINE, ANYWAY?
A liquid brine combines liquid, salt, sugar, and spices or other flavorings. 
Protein, like chicken, is immersed in the brine for a period of time to soak in the flavored liquid.
WHY BRINING WORKS AND WHAT IT DOES
Brining works because… science!  Salt causes protein strands to unwind and become tangled with each other, which traps liquid inside. 
That means you get more moisture and flavor in the chicken. 
The addition of sugar in brine also adds flavor and promotes browning.  If you ever wondered why some chicken looks ghostly white when cooked, while other chicken looks magically browned, the difference is most likely brine.
HOW LONG TO BRINE CHICKEN (DON'T FORGET FOOD SAFETY)
Wait!  Before you brine, remember: The first rule of brining is to chill your brine. 
That's right—you don't want to immerse your chicken in warm water or room temperature water. 
Why?  Because it will cause the temperature of the meat to rise to a level at which bacteria can multiply.  So mix up your brine, then chill it before using.
Now you're ready.
Follow these timing guidelines.
Chicken breasts or tenderloins: brine 30 minutes to 1 hour
Bone-in chicken pieces: brine 1 hour
Whole chicken: brine 1 hour per pound
What happens if you brine for too long?  If you go to extremes, such as leaving chicken in brine for more than 24 hours, you'll get overly-salted chicken.  It can also change the texture of the chicken.
When in doubt, 1 hour per pound is always a good plan.
WHERE TO GET A GOOD BRINE
I like to use Fire & Flavor brines because the directions are so simple to follow and the results are perfect every time. 
They have a Thyme & Basil Chicken Brine, a Sage & Thyme Pork Brine, and five flavors of Turkey Perfect brines.
HOW TO CUSTOMIZE YOUR BRINE
You can add more stuff to fancy up your brine.  Try a few of these ideas!
Garlic cloves (whole or crushed)
Slices of citrus, like lemons, limes, or oranges
Peppercorns
Fresh or dried herbs
Bay leaves
---